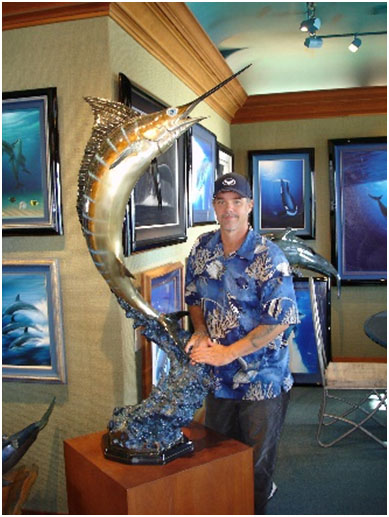 WYLAND Large Bronze Sculptures
Wyland, a brilliant artist and sculptor, rekindles your connection to life on our planet through his stunning, life like bronze sculptures depicting dolphins and whales on their ancient voyage, turtles rejoicing, and marlins flying through the air in dazzling, acrobatic leaps. Each piece of art is meticulously sculpted, then painstakingly cast – one at a time – in the time-honored tradition of the world's greatest artists. The long process continues as unique patinas are applied for a finish that grows more lustrous and beautiful over time. The result is a marvelous work of art, a sculpture destined to be handed down from generation to generation.
Large, Limited Edition Bronze Sculptures, each one created when ordered by you!
Wyland and his Team of 12 Master craftsmen will take 6-8 months to hand make!
We consider Wyland's Bronze Sculptures to be Best Quality Workmanship in the World today.
For immediate assistance please call us or use the convenient art inquiry form provided.
727-502-2583


Ocean Blue Galleries St. Petersburg
321-295-7317
Ocean Blue Galleries Winter Park
Ocean Blue Galleries offers the best and most impressive FRAMING available in the market to further elevate the prominence of your Highly Prized Collectibles!