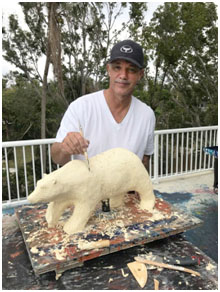 WYLAND Lucite Sculptures
Wyland's Lucite Sculptures combine beautiful contemporary sculpture with his signature marine-life.  The perfect combination of reality and Wyland's colorful imagination.
These Lucite Sculptures are Very Collectible Limited Editions, each sculpture created when ordered by you!
Wyland & his Team of 10 Master craftsmen at Starlight will take 2-4 months to hand make each sculpture in each series and are some of the most sought after and Collectible Limited Editions Wyland has ever created!
 We consider Wyland's Lucite Sculptures to be one of the most
Unique Processes & Best Quality Workmanship in the World today…
& therefore an Amazing Centerpiece in your home or office!
For immediate assistance please call us or use the convenient art inquiry form provided.
727-502-2583


Ocean Blue Galleries St. Petersburg
321-295-7317
Ocean Blue Galleries Winter Park
Ocean Blue Galleries offers the best and most impressive FRAMING available in the market to further elevate the prominence of your Highly Prized Collectibles!