Nano Lopez
Nano is one of the most Unique & Collectible Artists in the World, with Dozens of SOLD OUT Series & Very Limited Editions, his works are true Centerpieces!
Continue reading his biography below and watch videos explaining the process.
Browse the Nano Lopez Sculpture Gallery
by clicking on the first image.


Use our convenient contact form to inquire about Nano Lopez's art.
For immediate assistance please call us at…
727-502-2583


Ocean Blue Galleries St. Petersburg
321-295-7317


Ocean Blue Galleries Winter Park
305-296-7474


Ocean Blue Galleries Key West
Experts in shipping throughout the United States & Overseas!
Fully insured. Shipping right to your home.
Ocean Blue Galleries are experts in shipping throughout the United States & Overseas!
Fully insured. Shipping right to your home.
Nano Lopez
Born in Borgata, Columbia in 1955. His Grandfathers brother & his son were both Presidents of Columbia!
Nano's Mother was an Artist & being inspired from an early age he was captivated both by Nature & Mankind's Creativity…. As he passed construction sites as a child walking home from School he would pick up clay and bring home to work on, and so began his love of Sculpture…
Nano loves Nature so much that he started incorporating elements and Organic Textures into his Sculptures & this combined with his attraction to Human Creativity and all man-made machines is why you will see such things as gears in his work (continue reading below).
When Creating, mistakes happen & that is part of the evolution of the final piece, its sense of life, that richness and abundance, he tries to express in each individual piece!
His work is full of "Stuff", because that is how life is!!
He Tries to put a sense of History in each piece, a sense of Continuity & things that leave trails… giving complete character to the piece.
When you place an order, it will take Nano & his Team of ten of the Finest Experts in each stage of this Amazing lost wax Bronze technique to create over 10 – 12 weeks for your specific piece!
Each Piece will be numbered & come with a Certificate of Authenticity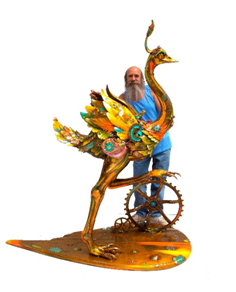 Look closely at Nano's sculpture and you will discover the bright colors of a Colombian market place, animals precariously laden with pots, fruits, vegetables, birds, bees, geckos, Pre-Columbian and contemporary artifacts. Look closer still and discover a deep respect for life, clearly observed, where everything, even a mischievous goat balanced on a pile of cast away tires is amazing.
The Process
For Nano, the entire sculpting process begins with his initial conceptual sketches.
He then creates a small working model in clay. Following that, he will then sculpt the piece actual size.
In his artistic process, Nano integrates organic textures and human-made objects into his
bronzes to create pieces of art that reflect the same depth and richness he sees in the world around him.
The sculptures unique elements become part of the final piece in several ways. They may be embedded,
applied to the surface, or even indented in the actual clay.
"The transformation from clay to bronze has always been magical to me."

-Nano Lopez