Michael Cheval
Michael Cheval was born in 1966 in Kotelnikovo, a small town in southern Russia.  He grew up among paints and brushes, canvases and easels.  His grandfather, a professional artist and sculptor, developed Michael's love for drawing in his early childhood.  A three-year-old boy, he could already draw complex multi-figured compositions, illustrating his fantasies and impressions. (continue reading Michael Cheval's biography below)
Browse Michael Cheval's Artwork Gallery
by clicking on the first image.


Use our convenient contact form to inquire about Michael Cheval's artworks.
For immediate assistance please call us at…
727-502-2583


Ocean Blue Galleries St. Petersburg
321-295-7317


Ocean Blue Galleries Winter Park
Ocean Blue Galleries offers the best and most impressive FRAMING available in the market to further elevate the prominence of your Highly Prized Collectibles!
Experts in shipping throughout the United States & Overseas!
Fully insured. Shipping right to your home.
Ocean Blue Galleries are experts in shipping throughout the United States & Overseas!
Fully insured. Shipping right to your home.
Michael Cheval
In 1980, Michael and his family moved to Germany.  His new setting made a great impression on the young artist.  Museums and castles, ancient streets and wonderful landscapes of southern Germany permanently defined Michael's tastes and predilections.  Always interested in history and literature, Michael became absorbed in music. He organized a band and devoted a number of years to rock 'n' roll.  He composed songs and wrote poetry.
After graduating school and serving in a Soviet Army, Michael moved to Nebit-Dag, a Turkmenistan city in the middle of Kara-Kum desert, near the Iranian border.  Absorbing Oriental philosophy and the character of Central Asia, he began working as an independent professional artist, shaping his style and surrealistic direction.  Michael collaborated with several theaters and publishing houses in Nebit-Dag and Ashgabat.  In 1992, he graduated from Ashgabat school of Fine Art.
In 1990, Michael held his first personal exhibition in Turkmenistan's National Museum of Fine Art.  This was a significant event for the 24-year-old artist that showed high appreciation from the republic's artist community.  In 1994, Michael moved to Russia and worked in Moscow as an independent artist and an illustrator for various publishing houses, including the famous book-publishing house "Planeta".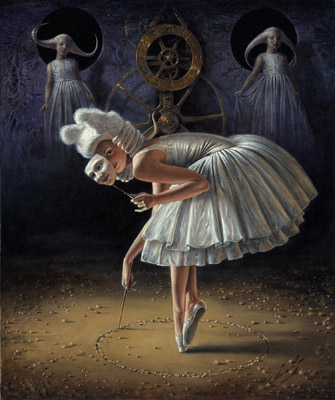 His decision to immigrate in 1997 to USA began a new epoch for the artist.  He returned to the Western culture that greatly inspired him in his youth, but now he brought his own experience, his philosophy and vision.  In 1998, he became a member of the prestigious New York's National Arts Club, where in 2000 he was distinguished with the Exhibition Committee Award at the annual club exhibition.
Since 1998, Michael regularly exhibits in various New York galleries.  He is a member of Society for Art of Imagination (London, UK) since 2002, and participates in annual European exhibitions held by the Association.
In 2003, Michael was accepted as a participant in the famous "Brave Destiny" exhibition, held in Williamsburg Art and Historical Center in Brooklyn.  Among other participants were such celebrated artists as H. R. Giger and Ernst Fuchs.
Since 2001, Michael exhibits at the International Show, Art Expo, which is held annually in Jacob K. Javits Convention Center, New York.
In 2006, Michael's works were accepted by "Feast of Imagination" exposition at H.R. Giger Museum Gallery, Switzerland.
In 2008 – he was accepted as a participant in the "Dreamscape 2009" exhibition in Amsterdam and published in "Dreamscape" book among of 50 Worldwide famous surrealist artists.
In 2009 – Michael Cheval was chosen as the Best Of Worldwide Oil Artists  by the "Best Of Worldwide Artists" Volume I Book Series (Kennedy Publishing, USA)
In 2009 – Palm Art Award Jury and Art Domain Gallery (Leipzig) certify that Michael Cheval is the winner of the First Prize of "Palm Art Award".
In 2010 – Michael's artworks have been published in "Dreamscape 2010" book among of 50 Worldwide famous surrealist artists.
In 2010 Michael's artworks have been published in "Imaginaire" book in Denmark and participated "April's fool" exhibition organized by "Fantasmus Art"
In 2011 the famous actress and artist Gina Lollobrigida commissioned her official portrait to Michael Cheval  – in July 2011 the painting was completed.
In 2012 Princess and Royal Caribbean cruise companies are started exhibiting Cheval's artworks onboard of their major cruise ships.
In 2013 Michael Cheval has been nominated for Palm Art Award (Germany)
In 2014  Ohio Distinctive Publishing and Stanford Apseloff published the book "Michael Cheval's Dreams" (Love and Romance)
2015 – Michael Cheval's artworks are exhibiting in 9 galleries with Wyland Galleries of Key West and Signature Gallery Group
In 2016 – Park West Galleries accepted Michael Cheval's artworks for  more than 120 Cruise ships all over the World.
In 2017 – Michael Cheval created a cover for Phil Lanzon's first solo album "If you think I'm Crazy". Philip James "Phil" Lanzon is the keyboardist for British rock group Uriah Heep since 1986.
In the Private Collections:
Gina Lollobrigida,
Warren Buffet,
Ernst Fuchs,
Ian Gillan (Deep Purple),
Taylor Swift,
Tony Moore (Iron Maiden, Cutting Crew),
Phil Lanzon (Uriah Heep),
Howard Stern
Publications
Cheval, Michael ( 2004 ). Lullabies.  InterArt Gallery. 96 pages full colored, art album 12″ x 9,5″
Cheval, Michael ( 2007 ). Nature of Absurdity. InterArt Gallery. 128 pages full colored,
art album 12″ x 9,5″
Who's Who in Visual Art, Vol. DE 2010-2011 ISBN: 978-3-9813474-1-8
Dreamscape 2009 Publisher: Imaginary Editions ISBN: 9789490668020
Dreamscapes 2010 Publisher: Imaginary Editions   ISBN: 9789490668020
IMAGINAIRE III: Contemporary Magic Realism  2010  Publisher: Fantasmus-Art Aps
ISBN-10: 8799214784
Stanford Apseloff  (2014) "Michael Cheval's Dreams"  96 pages full colored, art album
Ohio Distinctive Publishing  ISBN-10: 1936772159
Masters Of Painting  Volume 1 2017 Publisher Art Galaxie Ltd
ISBN: 9789892075495